You are visiting deals.ostoni.com, the section of our website for NEW PRODUCTS IN OFFER.
If you are looking for NEW PRODUCTS, please visit shop.ostoni.com.
If you are looking for REFURBISHED products, please visit store.ostoni.com.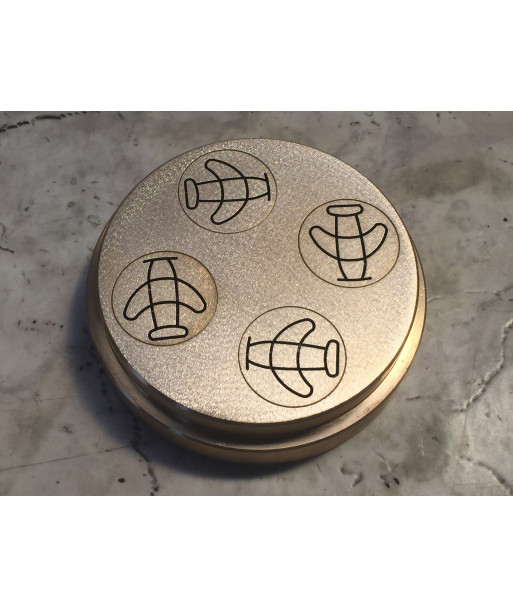  
AIRPLANE SHAPE PASTA DIE FOR GÖTZ P55R COMBINATION MACHINE
Airplane shape pasta die for Götz P55R combination machine
Pasta die for Götz P55R combination machine
for getting airplane shape pasta products, width mm. 30. The die has outside diameter mm. 119, thickness mm. 30, with brass inserts, guaranteed 1 year, CE and USDA approved.
This die can be used onto these pasta extruders:
Dominioni Punto & Pasta P55
Dominioni Punto & Pasta P55R
Götz P55R
Ostoni P55R
Guaranteed 1 year !!!
WHY TO BUY FROM A RESELLER ???
COME STRAIGHT TO THE SOURCE !!!
Feel free to call Ostoni in Italy for any info:
Call +39 02663 05178.
WE HAVE THE WORLD'S LARGEST INVENTORY OF PASTA MACHINES AND DIES FOR THE PRODUCTION OF RAVIOLI, TORTELLINI, CAPPELLETTI, TORTELLONI, GNOCCHI, PELMENI, PIEROGI, VARENIKI AND A LOT OF OTHER PASTA SHAPES !!!
You can see all the available shapes for pasta extruders on our new website https://www.allpastashapes.com, take a look !
MAG3-GÖTZ-P55R-AEROPLANO-901
Data sheet
Dies dimensions

Diametro mm. 119 - Spessore mm. 30
This die can be used onto these pasta extruders:
Dominioni Punto & Pasta P55
Götz P55R
Italpast MAC60
Italpast PX40
Ostoni P55R
1 other product in the same category:
Spaghetti shape pasta die for Dominioni Punto & Pasta P55R combination machine
Price
€295.20
Regular price
€328.00